P: 805-969-5115
F: 805-969-5119
E:

Scher Investment Group was founded in 1990 by Mark Scher and Joseph S. Scher to search out unique acquisition opportunities in real estate development and low-tech manufacturing companies. To date, we have acquired or developed approximately 3 million square feet of industrial and office space in the Western United States, including Salt Lake City, Utah; Austin, Texas; and California's San Francisco Bay Area. We manage our own assets with a value exceeding $200 million and we continue to create value through new acquisitions.

Our mission is to create economic value by acquiring, developing, adapting, and managing commercial property assets. Our capabilities include:

• Assessing market need and developing reuse strategies for blighted, vacant, or devalued commercial properties.
• Land acquisition, ground-up development, master planning and entitlements.
• Acquiring existing projects and creating value through intensive management enhancements.
• Structuring project financing.
• Providing ongoing asset management.

Our founding partners bring a wealth of both experience and success to Scher Investment Group. Please read their professional biographies below.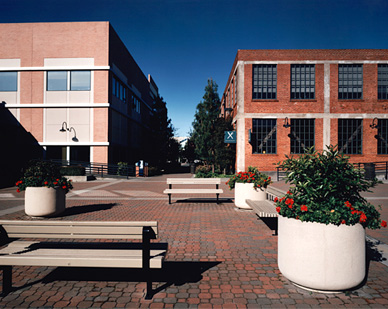 About Mark Scher


Mark Scher's expertise in the real estate industry spans more than 35 years, beginning with his background as a successful commercial real estate broker in the San Francisco Bay Area. In 1983, he formed the first of ten Bay Area commercial development partnerships. Mr. Scher was instrumental in capturing the burgeoning high-technology growth emerging out of the University of California at Berkeley. Over the next six years, Mark's projects included nearly 1,000,000 sq. ft. of office, research and development, industrial, and retail space in what is now known as the Biotech Corridor between North Oakland and Richmond, California.

In 1990, Scher Investment Group was formed and began developing and acquiring what would become more than 2,000,000 square feet of commercial space over the next 10 years. The bulk of this work was completed in Salt Lake City and Austin, Texas.

In 1998, Mr. Scher acquired four CBD block in downtown Austin, Texas. Scher's team designed a 750,000 square foot "Class A" office project, received entitlements and sold the project to Intel Corporation within 18 months of the land acquisition.

In 2007, Scher acquired 300 beds of assisted living communities as part of the SLF program in Illinois. Through active management and financial planning, we achieved very significant increases over the years in NOI as well as a 20 x on invested equity.

In 2014, Mark engineered a very complex 1031 exchange of 18 buildings with different ownership and debt/equity structures into 3 class A light industrial and office projects in Austin. Through aggressive asset management, the equity in those three properties has returned a 3 x on invested equity in 5 years.

Mark Scher received his Bachelor of Arts degree in economics from Pitzer College in Claremont, California. In 1985, he co-founded the Scleroderma Research Foundation with his late wife Sharon Monsky. The Foundation was established to build centers for basic research into this devastating disease. Scher served on the boards of Hillel UCSB and Santa Barbara International Film Festival as a longtime director and President. He is now a member of the Chairman's Council of AIPAC and a member of Showring philanthropic group at the Telluride Film Festival. Mark resides in Santa Barbara, California.

back to top


About Joseph Scher (1924-2014)


Mr. Scher had a very successful, varied and long business career staying involved well into his 80�s. After a few tries striking out on his own, and in need of a job he began work as a paint salesman with the Enterprise Paint Company. He singlehandedly created paint departments in large chain department stores that had never conceived of selling paint. He convinced Macy�s, JC Penny, Lazarus Dept. Stores (became Federated) among many other�s that they could add a whole new revenue source by selling paint in their stores. For over thirty years he grew The Enterprise Companies from a small fledgling paint manufacturing company on the South Side of Chicago to a major industry competitor with multiple lines under multiple labels both private and proprietary. He served as President of the company for ten years until the company was sold to the International Silver Company. Mr. Scher then struck out on his own and bought a string of manufacturing companies in the Advertising Specialty Industry as well as a chain of discount eyeglass stores. He also became a partner with his son Mark in the commercial real estate business, developing and acquiring over 3 million square feet across the Western United States.

Mr. Scher was a Philanthropic force in the Chicago and Santa Barbara Communities, as well as other major charitable endeavors. In Chicago he served as President of the Chicago Chapter of the American Jewish Committee and as a Director of the Birchwood Club. In Santa Barbara, he served as President of the Santa Barbara City College Foundation, served on the Board of the Santa Barbara Jewish Federation for eighteen years, and during that time served as President setting new fundraising records for the organization. He also took on the Presidency of the Board of Camerata the Santa Barbara Chamber music foundation, and served as a Director of Speaking of Stories while donating generously to The Music Academy of the West, the Hillel Foundation and many other worthy organizations.

He was a founding member of The Scleroderma Research Foundation along with his late daughter in law, Sharon Monsky, who suffered from this progressive, debilitating disease. He served on the Board of Directors and was a major financial supporter of the Foundation for over fifteen years.

Mr. Scher was a long time member of The Birchwood Club and Northmoor Country Club in Highland Park, IL as well as a long time member of La Cumbre Country Club in Santa Barbara, and the Birnam Wood Country Club in Montecito, CA..

back to top